While people debate the age-old question about whether tomatoes are a fruit or vegetable, here's an undisputed fact: Tomatoes are a good source of vitamins A, C and E, and the antioxidant lycopene.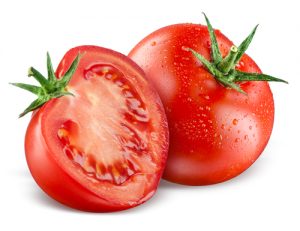 Studies show that lycopene may help prevent prostate, lung, and stomach cancers. The powerful antioxidant can also help reduce your risk of developing cardiovascular disease by reducing LDL ("bad") cholesterol and lowering blood pressure. Plus, there's some evidence that cancers of the pancreas, colon and rectum, esophagus, oral cavity, breast and cervix can be reduced with increased lycopene intake.
What Types of Tomato Products Should I Eat?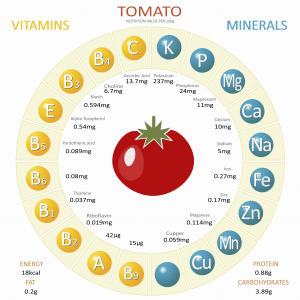 Lycopene is a lipid-soluble compound, which means that consuming it with fat (oil) increases its bioavailability. So you will obtain more lycopene from the fresh tomatoes in your salad when they are paired with a full fat dressing ins
tead of reduced fat dressing.
Additionally, our bodies extract the most benefit of the lycopene from processed tomato products, such as tomato paste, sauce and ketchup. So keep the tomato-y condiments on hand for a healthy boost!
Need a tomato-heavy recipe suggestion? Try the delicious fish recipe below. Bon appétit!

Sear-Roasted Halibut with Tomato & Capers 
Adapted from Fine Cooking
INGREDIENTS
1 pint cherry or grape tomatoes, halved
2 Tbsp capers, rinsed and chopped
1 1/2 Tbsp chopped fresh oregano
1 1/2  tsp balsamic vinegar
Kosher salt and freshly ground black pepper
1 1/2 lb thick skinless halibut fillet (or other mild white fish, like cod), cut into 4 even pieces
1/3 cup all-purpose flour
2 Tbs. extra-virgin olive oil
2 medium cloves garlic, thinly sliced
DIRECTIONS
Position a rack in the center of the oven and heat the oven to 450°F.
In a medium bowl, mix the tomatoes, capers, oregano, vinegar, 1/2 tsp. salt and 1/4 tsp. pepper.
Season the fish with 3/4 tsp. salt and 1/4 tsp. pepper and dredge it in the flour, shaking off the excess. Heat the oil in a 12-inch (preferably nonstick) ovenproof skillet over medium-high heat until shimmering hot. Add the fish, evenly spaced, and cook without touching until it browns and releases easily from the pan (check by gently lifting one of the corners), about 3 minutes. Flip the fish, sprinkle the garlic around it, and cook until the garlic just starts to brown on some edges, about 30 seconds.
Pour the tomato mixture around the fish and transfer the skillet to the oven. Roast until the fish is just firm to the touch and opaque when you pry open a thicker piece with a paring knife, 3 to 6 minutes.
Let the fish rest for a couple of minutes and then serve with the tomato mixture spooned over it.