Collaboration has clearly been central to the life and work of Sujuan Ba, Ph.D., Founder and CEO of The Asian Fund for Cancer Research (AFCR), an innovative nonprofit organization that provides funding to scientists dedicated to cancer research.
Dr. Ba, who received her Ph.D. in Inorganic Chemistry from the University of Pennsylvania, has sought to help her alma mater to network with other research institutes across the globe to forge new collaborative partnerships. "We are fortunate to be living in an age in which technology breaks down barriers among scientific innovators around the world," she said. "There is no telling where such collaboration can lead."
Recently, Dr. Ba has facilitated and nurtured key collaborative program with the well-known medicinal chemist, Amos B. Smith III, the Rhodes-Thompson Professor of Chemistry at the University of Pennsylvania, who is well-known for synthetic innovations in chemistry for therapeutic applications.
Building on Success
In the fall of 2019, at the Marriott Hotel in Bethesda, Maryland, the AFCR and its partner organization, the National for Cancer Research (NFCR), a charity in United States that Dr. Ba served as President and Chief Executive Officer, hosted their biannual Scientific Symposium of the State of Cancer Research and Global Collaboration. This allowed AFCR and NFCR-supported scientists to gather together to present and share their latest research findings.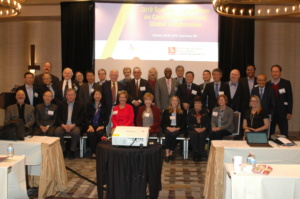 Joint Scientific Symposium on 28 and 29 October 2019
In attendance was Professor Jiancheng Hu of the National Cancer Center Singapore, a young AFCR-supported molecular and cell biologist. Hu had discovered the resistance mechanism of standard inhibitors to a hyperactivated cell growth pathway present in 40% of cancers, and had begun to develop candidate next-generation inhibitors. However, he needed an expert chemist to optimize the lead compounds. That is where a fortuitous match came to the rescue. Dr. Smith raised questions with Dr. Hu during the session and afterwards. They mutually decided to collaborate in order to synthesize and investigate the optimal lead drug molecules for this innovative mechanism of action. Dr. Smith immediately began to share initial ideas about modeling and synthesizing analogues that could improve the efficacy of Hu's candidate inhibitors.

Prof. Jiancheng Hu
It did not take long for Dr. Ba and members of the Scientific Advisory Boards of AFCR and NFCR to recognize the potential impact that might derive from a Hu-Smith intercontinental   collaboration that could benefit patients globally.
Dr. Ba and her team worked with the Office of Research Services at the University of Pennsylvania and the Office of Research Administration of the National Cancer Center Singapore to forge a formal scientific collaboration agreement. The goal is to create a new drug candidate, to be optimized by Professor's Smith's laboratory at Penn, with biochemical and clinical trials conducted by Prof. Hu's team in Singapore.
"I am very excited about this collaboration to develop an efficacious inhibitor as a new treatment for many patients in great need," said Dr. Smith. "Collaboration is the true path toward success, and it is my honor and pleasure to work with Professor Hu. Through the generosity of AFCR and vision of Dr. Sujuan Ba, our joint research is now possible.  It is especially gratifying to see Dr. Ba, our Penn graduate student, playing such an active role in making important collaborations happen."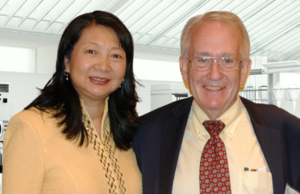 Dr. Sujuan Ba (L) and Prof. Amos B. Smith III (R)
Dr. Ba expresses equal excitement about this initiative. "Cancer has no border, so we will work with the best teams anywhere in the world to advance the most innovative research projects that can potentially save patients' lives worldwide," she said. "It has been a very rewarding experience to work with Professor Smith and the wonderful team at Penn's Office of Research Services to forge this collaborative partnership between the University of Pennsylvania and National Cancer Center Singapore."
Today, with AFCR's funding and support to this high impact collaboration, the two scientists and their teams are making progress to accelerate the development of the next-generation inhibitors, which may effectively target the aberrant signaling in cancer and save lives. Click HERE to learn more about the collaborative program.
AFCR's Collaborative Model
Since founded in 2006, AFCR has well established a constant growing international network of leading cancer scientists, top cancer research hospitals and institutions, and biopharmaceutical companies worldwide.
AFCR is uniquely positioned to gathering top research minds across the globe to investigate the distinct causes of cancer in Asian populations through innovative genetic and molecular research, and implement in Asia the newest cancer research discoveries and technologies available elsewhere.