On December 15, 2022, the Asian Fund for Cancer Research (AFCR) held its annual reception for community support of cancer research in Hong Kong. The event was a great success, thanks to the support of generous donors, attendees, and inspiring speakers who shared their thoughts on the importance of cancer research.
Mr. George Hara, Chairman of the Board of Alliance Forum Foundation and former Intergovernmental Ambassador to the United Nations, emphasized the importance of translating innovation into new therapies for cancer patients, highlighting research's critical role in improving outcomes for those affected by the disease.
Chairman Lance Kawaguchi shared AFCR's strategic vision to support early-stage scientists and oncology companies in finding cures for cancer and called on the community to join in this vital work.
Dr. Tak Mak, the 2021 ASG Prize Winner and pioneer in immunotherapy, shared his journey after witnessing his wife suffer from cancer and pass away within nine months. Despite this heartbreaking experience, Dr. Tak Mak remains committed to finding cures for cancer and improving the lives of those affected by the disease.
Dr. Anna Tsang, a junior faculty member at The Chinese University of Hong Kong (CUHK) and student of the late Prof. George Tsao, paid tribute to her mentor and highlighted her cutting-edge research, which is helping to advance our understanding of cancer and bringing us closer to finding effective treatments.
In addition to these moving presentations, the event also featured a silent charitable auction, offering attendees the opportunity to support cancer research in a meaningful way. We are particularly grateful to Board Member Mr. Franck Le Du for donating art pieces and Mr. Simon Je and his wife, Mrs. May Zhang, for donating jewelry for the auction.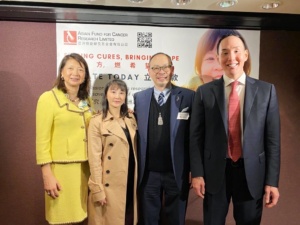 Left to Right: CEO Dr. Sujuan Ba, May Zhang, Simon Je, Chairman Lance Kawaguchi
Mr. Simon Je and Mrs. May Zhang donated to support cancer research as a meaningful way to honor his late mother, Ms. Chin Chen Che, who passed away from lung cancer.
We are truly grateful for the support from our community, and we believe that together, we can make a real difference in the fight against cancer. We encourage everyone to continue supporting AFCR's efforts to fund early-stage scientists and oncology companies in their quest to find cures for this devastating disease. Let's work together to bring hope and healing to cancer patients.