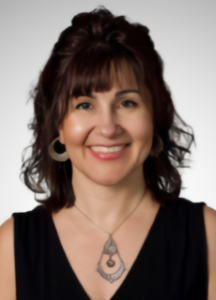 Innovation: Therapeutics – anticancer system capable of loco-regional delivery of drug product
Targeted Cancer(s): Solid Tumors, Mucosal Cancers. Initial indication: Oral Cancer
Scientific Leadership/Leadership: Manijeh Goldberg, PhD., President & CEO; James Mackay, PhD., Board Member and Chief Advisor; Nishant Agrawal, MD., Chief Medical Advisor
Stage of Project/Company: Ready for Phase III in-human trials in 2021
Opportunity
Privo Technologies, Inc. is focused on changing the oncology treatment paradigm with its Programmed Release Vehicle (PRV) technology. The Company has two pivotal-ready derivatives of this platform technology – PRV111 and PRV211. PRV111 is a nanoengineered treatment for invasive locoregionally accessible mucosal cancers/high grade dysplasias and PRV211 is an intraoperative treatment for all solid tumors. Privo's treatments have been shown to be safe and effective locoregional chemo-immunotherapies based on results from its Phase I / II clinical trial investigating PRV111 in head and neck squamous cell carcinoma.
The PRV system can amplify the efficacy and safety of many therapeutics via controlled release and locoregional administration. Privo has developed several derivatives of PRV, containing proteins, biologics, nucleotides, and small molecules. These PRV-based products are capable of treating a broad spectrum of oncologic malignancies through either topical application to the tumor or resected areas post-surgery to reduce the chance of micrometastasis and cancer recurrence. The company's pivotal-ready assets, PRV111 and PRV211 are potent locoregional anti-cancer treatments.
In Privo's Phase I / II safety and efficacy study in patients with squamous cell carcinoma of the oral cavity and lips, PRV111 demonstrated compelling results meeting all primary and secondary endpoints, including the ability to reduce tumor size by over 70% in a single week. Based on the treatment's safety and efficacy, the company is preparing for two separate global Phase III studies with PRV111/211. One study is focused on tongue cancers and the other on high-risk oral dysplasia. Privo plans to initiate both studies by the end of 2021.
In addition to its standalone treatments, Privo is planning to combine its products with immunotherapy to improve immunotherapy's outcome as 70% to 85% of patients taking immunotherapy drugs fail to respond to the treatment.
Unmet Medical Need
Privo's initial treatments can address multiple unmet needs described below. However, based on recommendations by key opinion leaders and as a proof of concept, the company has conducted several studies in oral squamous cell carcinoma or oral cancer.
Oral cancer (OC) is an underserved disease which is often overlooked by the medical community, yet it is the 6th most common and deadliest cancer in the world and claims the life of 1 American every hour. According to the Oral Cancer Foundation, approximately 50,000 Americans were diagnosed with oral and oropharyngeal cancer in 2020, resulting in 9,700 deaths and is increasing among all population segments due to the rising prevalence of oral human papillomavirus (HPV). According to the National Cancer Institute's SEER database, patients with localized or regional OC comprise 81% of newly-diagnosed cases. Standard of care surgical/radiation treatments for OC can severely damage a patient's ability to speak, chew, and swallow. Scars, serious discomfort, decreased quality of life, and social isolation result in one of the highest suicide rates of all cancers. Despite recent advances in imaging, surgery, radiation, and systemic therapies, overall survival (OS) has improved only 5% in the last decade.
In general, Privo's initial products can address several unmet needs within the oncology space.
PRV111 Topical System:
Preventing progression of carcinoma in situ/ High risk Dysplasia: PRV111 has the potential to prevent accessible high-risk lesions from becoming invasive cancers. It can also eliminate or reduce the need for disfiguring surgery that can destroy form and functionality of the organ.
Examples include High grade oral and cervical dysplasias.
Treating invasive Locoregional accessible tumors: Cancers such as mucosal and cutaneous tumors can be treated topically with PRV111 topical PRV111 topical system can be used in neoadjuvant settings to reduce the chance of recurrence and disfiguring surgeries.
PRV211 Intraoperative Chemoimmunotherapy:
Eliminating the residual cancer cells in the tumor bed after resection: This treatment can be used for nearly all solid tumor surgeries in order to reduce that chance of micrometastasis and relapse.
Reducing the need for adjuvant therapy: Currently adjuvant treatment is used after recovery from surgery such as radiation and chemotherapy. These treatments can have severe side effects.
Differentiation
Currently, PRV111 system is topically applied to mucosal cancers to treat the primary tumor and locoregional lymph nodes. This can be applied before or after surgery and in conjunction with standard of care therapy to augment its efficacy with minimal downside – the treatment remains in the tumor's local and regional areas and does not cause systemic toxicity. PRV111 offers the benefit of rapidly killing cancer cells, shrinking tumors and eliciting a powerful innate immune response while avoiding systemic exposure (Figure 1, clearly shows human tumor responses to the PRV111 topical system).
PRV111 has shown a "Two Punch" effect at the tumor site, simultaneously killing tumor cells and activating immune cells such as those positive for CD3, CD4 and CD8, which have been associated in previous studies with improved rates of overall survival. This can create long-term treatment durability, effectively making a "cold" tumor "hot".
PRV111 has the potential to eliminate or reduce the extent of surgery for patients with mucosal cancers to spare organ form and function and improve quality of life. For example, surgery for oral cancer can leave patients with lasting facial disfigurement that impacts their ability to speak and chew. Patients with anal or colorectal cancer frequently are left with a colostomy bag from the radical surgery. The ultimate goal is to reduce the chance of recurrence and disfiguring surgery using chemoimmunotherapy.
PRV211 is an intraoperative treatment applied to the tumor bed and nodal basins post-resection to minimize risk of micrometastatic spread and tumor recurrence, and initiate a similar immune response to PRV111 intended for use in all solid tumor surgeries, such as those in the head/neck, stomach and spleen (Figure 2). Recent findings have suggested adjuvant chemotherapy treatment directly following resection can minimize the likelihood of recurrence and micrometastatic spread, highlighting the therapeutic potential for PRV211. Moreover, this can reduce the need for adjuvant chemo/radiotherapy which have severe toxicities.
PRV211 can be applied immediately after tumor resection to destroy remaining cancer cells before they can leverage the wound healing process to further proliferate. Research has shown that wound healing intervals can enable any remaining malignant cells to grow and metastasize due to parallels between wound healing and metastasis pathways. Surgical trauma, caused by removing the primary tumor, activates wound healing pathways and any remaining cancer cells can be seeded into blood. These pathways are activated immediately after surgery, with the peak increase in the proliferation of residual cancer cells occurring within 24–72 hours after primary tumor removal. Adjuvant therapy is typically given in a staggered fashion due to dose-limiting toxicities. This delay may promote spreading of metastatic cancer cells, which compromise therapy's subsequent effectiveness.
Asset Profile & Development Plan
Potency: PRV111/211 can deliver 100 times higher concentration of therapeutics to the tumor and locoregional lymph nodes than is achievable via systemic administration.
Duration of Action: Drug remains in the tissue up to 30 days post-administration. Current data indicates that patients treated with PRV111 are disease-free up to 12 months after therapy. PRV111 has a treatment duration of approximately 1 week.
Proof of Concept: The efficacy and safety of PRV111 was evaluated in a Phase I/II trial treating subjects with oral cavity cancer. There was an overall response rate of 87% and over 70% reduction in tumor volume among the responding subjects. The pharmacokinetic profile showed that the drug concentration remained local to the tumor (350x higher than systemic therapy) and locoregional lymph nodes (110x higher than systemic therapy) and did not enter systemic circulation (700x lower than systemic therapy).
Safety and Tolerability: No systemic toxicities, severe adverse events, or dose-limiting toxicities were observed.
Intellectual Property: The technology currently has 3 issued US/European patents and 5 patents pending (Expiration 2037-2038).
Clinical Development Plan: The company plans to target patients with early-stage oral cancer for PRV111's first indication prior to expanding PRV111 for use in all mucosal cancers. Further, the company plans to investigate whether the addition of PRV111 to immunotherapies can improve upon the conventionally poor response rates seen in the current literature. For PRV211 the company again plans to target patients with early-stage oral cancer as its initial indication, followed by expanding PRV211 for use in all solid tumors.
PRV111 is ready for two separate global Phase III trials in oral squamous cell carcinoma and high-risk oral dysplasia. PRV211 will be investigated alongside PRV111 in oral squamous cell carcinoma before further investigation in all solid tumors. The company plans to initiate both global Phase III trials by the end of 2021, and is currently fundraising for the commencement of these trials.
Figure 1: Oral cavity tumor volume reduction post-PRV111 treatment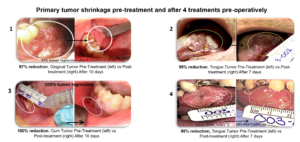 Figure 2: Images of spleen and stomach tumor beds lined with Florescent PRV211 indicating high concentration of anticancer drug in the tumor bed. PRV211 can be used on any solid tumor surgery, such as Spleen, bladder, esophagus and stomach